Manipal University and CII-IL sign MoU for establishment of in-campus CoE for Logistics and SCM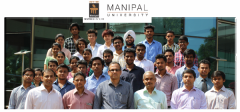 Manipal University signed an MoU with CII Institute of Logistics to focus on rapidly emerging Logistics and Supply Chain Management domain in India. The University's Department of Commerce is actively engaged with CII-IL in conducting focused education programmes in addition to regular curriculum. In this series, the first batch of 30 students have successfully completed short term certificate programme in Logistics and Supply Chain Management.
An interesting point to note is that all the participants are from commerce discipline. Towards the end of the programme all of them managed to identify focus areas of interest in Logistics and Supply chain management functions related to specific industry sectors. The group is determined to continue its focused learning activities in association with CII-IL and look forward to join forthcoming industrial study missions. For more details about the programme write to sai.sridhar@cii.in or click here to read about CII-IL in-campus education center of excellence.