INDIA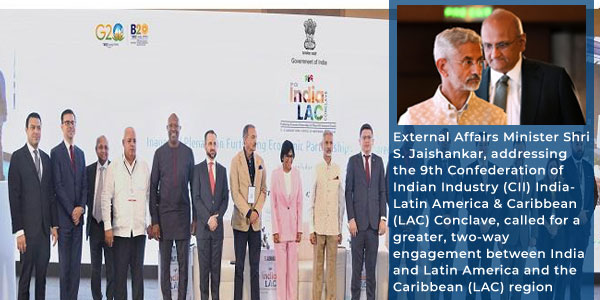 The Hindu newspaper reported that External Affairs Minister Shri S. Jaishankar, addressing the 9th Confederation of Indian Industry (CII) India-Latin America & Caribbean (LAC) Conclave, called for a greater, two-way engagement between India and Latin America and the Caribbean (LAC) region in areas of agriculture, supply chain diversification, and resource partnership. The Conclave was held in New Delhi on August 3, 2023. Shri Jaishankar added that India's trade ties with the region have moved to a "new trajectory" in the last nine years and that there is greater scope to further consolidate the relations in a whole host of areas.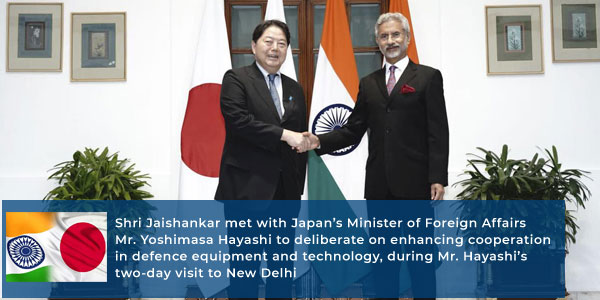 During the same fortnight, Shri Jaishankar met with Japan's Minister of Foreign Affairs Mr. Yoshimasa Hayashi to deliberate on enhancing cooperation in defence equipment and technology, during Mr. Hayashi's two-day visit to New Delhi. They also discussed collaboration in areas such as semiconductors and supply chainswith an aim to achieve $35.9bn Japanese investment in India by 2027. Sharing a Tweet about the meet, Shri Jaishankar said that "India and Japan will work together for the future of international order; in new technologies, strategy, and culture."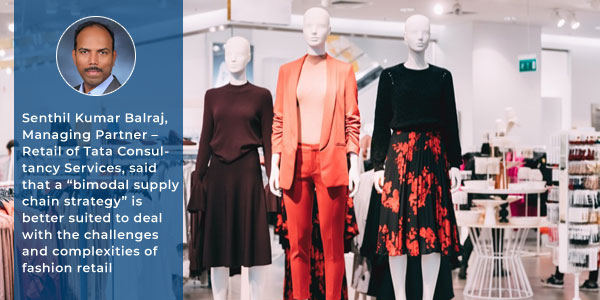 Senthil Kumar Balraj, Managing Partner – Retail of Tata Consultancy Services, in an article published on the company portal, stated that the conventional linear approach to supply chain management is not the optimal way for the fast fashion sector as it does not offer much flexibility to succeed in a volatile market. He pointed out that the global apparel market is likely to rise to 102 million tons, which is equivalent to more than 500 billion additional T-shirts, by the year 2030. Mr. Balraj said that a "bimodal supply chain strategy" is better suited to deal with the challenges and complexities of fashion retail. He defined a bimodal supply chain strategy as one that strikes a balance between efficiency and agility.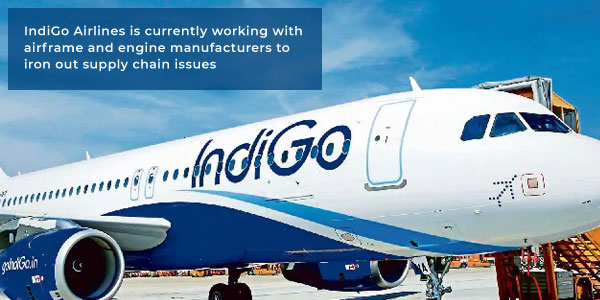 As per a PTI report, IndiGo Airlines is currently working with airframe and engine manufacturers to iron out supply chain issues. The company stated in its annual report that it is working towards ensuring the supply issues have minimum impact on the company in view of the lack of availability of spare engines for its neo aircraft. It added that it's aiming to serve more than 100 million passengers during the current fiscal and is in the process of setting up channels for a stronger international presence. Currently, the company operates a fleet of more than 300 planes with over 1800 daily flights, as per the report.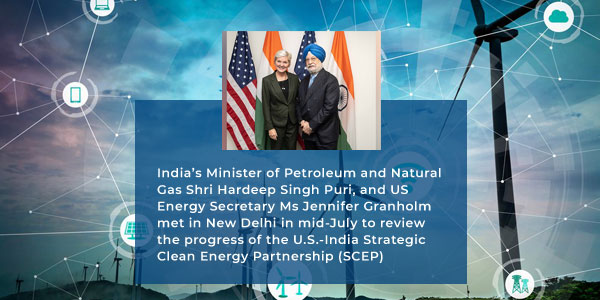 India's Minister of Petroleum and Natural Gas Shri Hardeep Singh Puri, and US Energy Secretary Ms Jennifer Granholm met in New Delhi in mid-July to review the progress of the U.S.-India Strategic Clean Energy Partnership (SCEP), which was launched in September 2021. The two sides called for a stable, diversified, and globally responsible clean energy supply chain to minimize risks and uncertainties. They also welcomed the launch of the U.S.-India New and Emerging Renewable Energy Technologies Action Platform (RETAP) to accelerate the development of key technologies to advance common ambitious clean energy goals.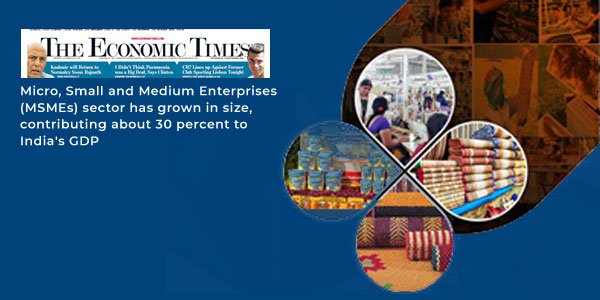 The Economic Times covered India's trade finance sector to assess the future and sustainability of supply chain finance. The newspaper noted that the country's Micro, Small and Medium Enterprises (MSMEs) sector has grown in size, contributing about 30 percent to India's GDP. The MSME sector strives to be a part of the mainstream financial ecosystem and this is where deep-tier supply chain finance sector operates, the article stated.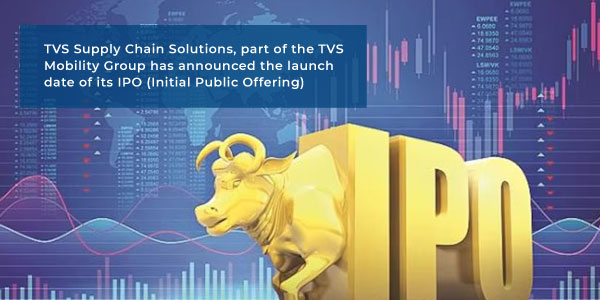 Finance sector portal Moneycontrol reported that TVS Supply Chain Solutions, part of the TVS Mobility Group has announced the launch date of its IPO (Initial Public Offering). The IPO is set to open for subscription on August 10 and close on August 14. TVS Supply Chain Solutions is among leading Indian logistics multinationals that serves a range of industry sectors including automotive, FMCG, Defence, E-Commerce and Omnichannel, and Consumer Durables

INTERNATIONAL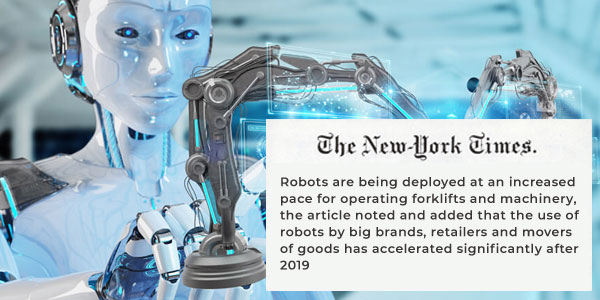 The New York Times reported that the long-awaited automation revolution could be finally here. Robots are being deployed at an increased pace for operating forklifts and machinery, the article noted and added that the use of robots by big brands, retailers and movers of goods has accelerated significantly after 2019. It quoted the Association for Advancing Automation, to highlight that robot orders in North America has risen by 42 percent during the pandemic years. The relentless endeavor of tech companies deploying significant resources for making robots profitable during the past several years seems to be paying off. This has prompted more companies joining the fray to solve issues that have traditionally ailed automation, which is further helping the trend, the report said.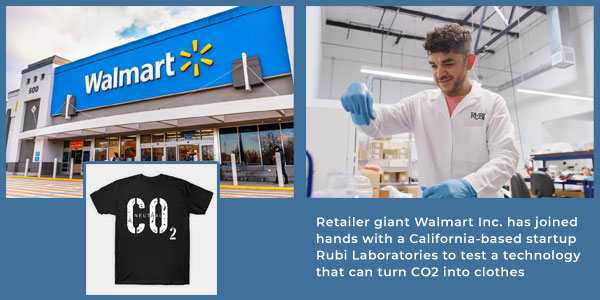 Retailer giant Walmart Inc. has joined hands with a California-based startup Rubi Laboratories to test a technology that can turn CO2 into clothes. The carbon dioxide is to be captured from the retail giant's supply chain. This initiative launched as part of Walmart's Walmart's sustainability drive will not only enable the making of affordable clothing made from captured CO2, but can also potentially help galvanize climate-change initiatives in the developing economies.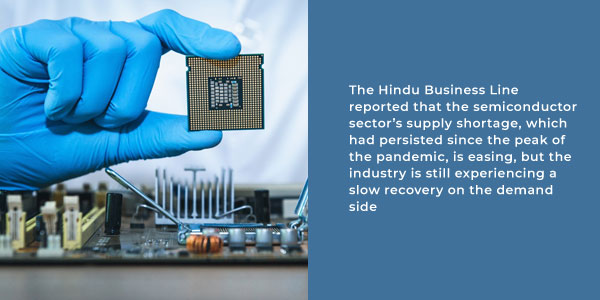 The Hindu Business Line reported that the semiconductor sector's supply shortage, which had persisted since the peak of the pandemic, is easing, but the industry is still experiencing a slow recovery on the demand side. The article stated that while the AI trend has supported the chip demand, it is still a small part of overall chip demand and the industry is waiting for other sectors such as automotive and consumer electronics to resume their return to their pre-pandemic stable growth rates.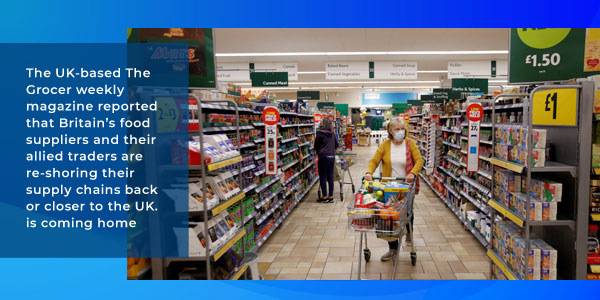 The UK-based The Grocer weekly magazine reported that Britain's food suppliers and their allied traders are re-shoring their supply chains back or closer to the UK.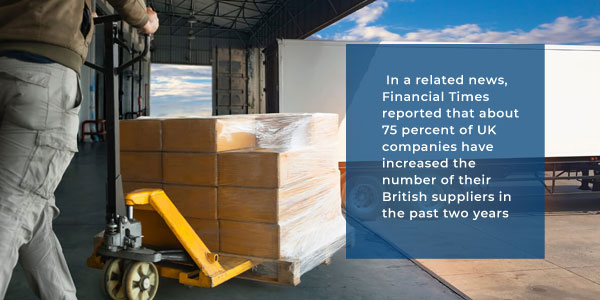 The increasing volatility in the global market being impacted by adverse geopolitical events, extreme weather, rising logistics costs, and the prospect of complex and costly post-Brexit border checks have proven to be a tumultuous mix for the supply chain, compelling food businesses to secure their supply chains. In a related news, Financial Times reported that about 75 percent of UK companies have increased the number of their British suppliers in the past two years, per a survey by Make UK, the country's manufacturers' trade group.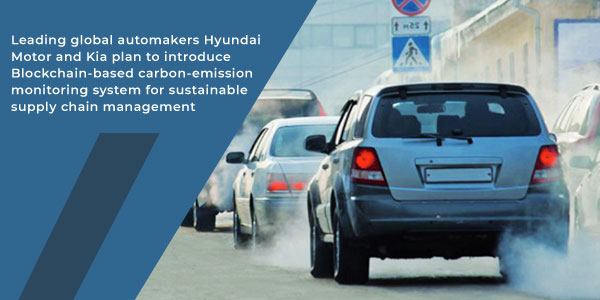 Leading global automakers Hyundai Motor and Kia plan to introduce Blockchain-based carbon-emission monitoring system for sustainable supply chain management. A Hyundai press statement revealed that this new supplier CO2 emission monitoring system (SCEMS) will leverage high-performance blockchain technology to assure secure and accurate carbon emissions data collection, integrate artificial intelligence (AI) technology and blockchain technology to enable the accurate prediction of future emissions, and thus relieve suppliers from this time- and cost-consuming work and enable them to manage their carbon emissions with accuracy.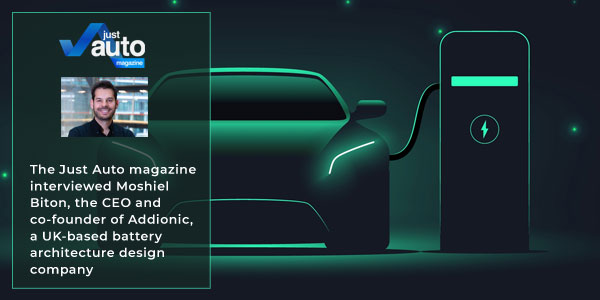 The Just Auto magazine interviewed Moshiel Biton, the CEO and co-founder of Addionic, a UK-based battery architecture design company for insights into the supply chain concerns that impact electric vehicle production. The magazine quoted Jim Farley, CEO of Ford, who recently suggested that cost-parity between EVs and ICE vehicles may not be reached until 2030, to underscore a big issue facing the EV making process: lengthy production times.
Interview of the Month




"National Logistics Policy will Further Improve Ease of Logistics"




Mr. Paresh Mehta,

Director, Mehta Excel Pvt. Ltd shares insights about the growth factors that have helped with a consistent rate of growth over the decades, in the face of fast-increasing competition in the logistics sector.

Since your company Mehta Excel's founding in 1972, it has grown steadily into an organization that has a national footprint and offers a range of supply chain solutions to an impressive clientele. Can you share with us a quick view of your company's journey from inception to today and the factors that have helped it maintain a strong pace of growth?
This company was founded by my father Mr. Shashikant D Mehta. Since the company'sinception in 1972, we have been providing end-to-end solutions in Supply Chain, Logistics and Warehousing services. Our first client was TOMCO (a Tata Groupcompany). This operation was in Jabalpur. The beginning was humble as the resources were scarce. In this period, we managed to build a fleet of five trucks. The initial journey was slow, but the foundation was made. I joined the operation in the year 1995. After learning the business, I embarked on an expansion journey. I had a vision to provide anend-to-end 3PL solution. From having one anchor customer (Hindustan Unilever) we expanded our operation to 23 clients across India. We now serve FMCG, Consumer Durable, Beauty and Personal Care, Healthcare, Chemical, Food and Beverage, E-Commerce, and Retail verticals. From five of our own fleets, we now have a fleet of 280-plus trucks. I have always considered a talented solid team as the most principal factor for the strong pace of growth. We have experienced Directors and team leaders with proven track records and experience to take the company to the next phase of exponential growth. Other factors that have contributed to our sustained growth and success, our customer focus approach by building strong customer loyalty, Identifying, and addressing market needs with innovative solutions, our ability to adapt to changing market trends and customer preferences ensured our continued relevance and agility. Empoweringvaried businesses through talent, determinationand an 'excel-to-exceed' attitude. Today, our gamutof tailored logistics services covers supply chainmanagement, warehouse management, logistics &distribution facilitation, one-stop packaging solutionsand on-time transportation services. At Mehta Excel Private Limited, our journey of logistics excellence continues, and we remain committed to providing top-notch services, fostering innovation, and exceeding customer expectations in every way possible.


The competition in the transportation and warehouse sectors, where your company has a sizable presence, heated up in the pandemic and the post-pandemic years due to a rise in e-commerce activity and the opening-up of suppressed demand. What are your company's strengths that have helped you keep pace with the competition?
The competition has increased in the last decade. Multinational logistic companies started their 3PL operation in India. Also, the new edge tech-based logistic companies are competing with us.

One of the most important strengths of Mehta Excel is the trust our existing clients have on us. This we have built over the years through our actions. This has helped us to retain our clients.

One of our key strengths is its scalability. we have demonstrated the ability to quickly adapt and expand our operations to meet the surge in demand during the pandemic and post-pandemic periods.

Customer-centric approach by offering multiple delivery options, such as same-day and next-day delivery, Proactive communication and easy return processes further enhance customer satisfaction, fostering strong relationships with our clients.

Safety and compliance are at the forefront of our operations. We place a strong emphasis on safety protocols for our workforce, ensuring the well-being of our employees while also enhancing our reputation with clients.

Mehta Excel is a lean organization. Our managers are empowered to take operational decisions as per the company framework. We have kept the overhead costs under control, which keeps us competitive.

Also, we adopt technology very quickly. For example, the Mehta Excel transport management system (TMS) is the backbone of the transport operation. Fleet monitoring using a control tower to planning is all driven by the platform. This has helped us to increase the capacity utilization of our fleets and increase the on-road time of the fleet. Hence with the support of technology, we help our clients to optimize their costs and TAT.

Through our strategic technology partners, we have the latest complete suite of digital technologies from OMS, WMS, and WCS with APIs to integrate with our client ERPs.

In conclusion, our strengths lie in its technological prowess, scalability, customer-centric approach, data-driven decision-making, strategic partnerships, safety compliance, skilled workforce, sustainability efforts, continuous improvement culture, and financial stability. These factors collectively position us as a leading logistics company that consistently exceeds customer expectations and excels in the highly competitive logistics industry.

Mehta Excel is well positioned to take advantage of its technology, team strength and reach to be ahead of the competition.


Due to the increased activity of multinational consumer products and retail companies in the Indian market, the use of technology in supply chain has become a big differentiator, whether it is the use of track-and-trace technologies, warehouse automation, or energy-efficient modes of transportation. How does and in what ways does Mehta Excel use technology as a differentiator and enabler for its customers' supply chains?
Good question.

Today's globalization multiplied product complexity, and increased customer demands, companies are taking up advanced technologies to transform their supply chain from a pure operations hub into the epicenter of business innovation.

As I mentioned above, Mehta Excel has always been an early adopter of technology.

Extending further, our TMS software provides customers with real-time tracking of their consignment. We provide ePODs for paperless operations as well as for faster reconciliation.

To make logistics management even more convenient for our clients, we provide mobile apps and customer portals, enabling easy shipment tracking, access to logistics documentation, and on-the-go customer service support.

Our fleet consists of CNG vehicles which are much less polluting as compared to diesel vehicles contributing to the eco-friendly world.

In terms of warehouse management systems, our technology is sector/vertical agnostic. Mehta Excel provides a single system for end-to-end management: Integrated OMS/WMS, Inventory management with limitless integration possibilities. Our 3PL services are suitable for multinationals or startups requiring a PAN India distribution network and having the capabilities to handle the complete cycle of order to cash.

Furthermore, our investment in state-of-the-art warehouse management systems, enables faster order processing, reduced errors, and improved inventory management efficiency.

Our inventory management solutions leverage advanced software to optimize stock levels, minimize stockouts, and reduce carrying costs. The technology also aids in demand forecasting, ensuring our customers' goods are always available as needed (JIT).

Artificial intelligence, blockchain, robotics, 3D printing, and the internet of things are set to supercharge supply chains and Mehta Excel wants to get involved in all these technologies.


The government's pro-industry policies, such as Gati Shakti or the recently drafted National Logistics Policy, and reforms such as GST, have been having a noticeable impact on the logistics industry. What is your experience of the effect of these policies, and what are your expectations from these and similar policy initiatives and reforms?
At Mehta Excel, we are closely monitoring the developments surrounding the Gati Shakti initiative and the National Logistics Policy in India. These government-led initiatives have the potential to significantly impact the logistics industry and create opportunities for growth and improvement.

In the last few years, the road infrastructure in India has taken a leap forward. The turnaround time has improved by 20 percent – 30 percent. Better road infrastructure has many benefits. The most important is for drivers as they get less fatigue, less waiting (FastTags) and gets better off-road facilities.

GST has truly made India as ONE. No octroi, no check post has improved the efficiency of transport industry.

The National Logistics Policy, if well-formulated and executed, could be a game-changer for the logistics sector. By streamlining regulations, enhancing logistics infrastructure, and promoting technology adoption, this policy can elevate the overall competitiveness of the industry. We eagerly await the specifics of the policy and are hopeful that it addresses various challenges faced by 3PL logistic companies.

The National logistic Policy will further improve "ease of logistics" after the various integrations from different ministries happens. This digitization through ULIP will bring all modes of transportation on one single platform in terms of visibility to customers.

As we look forward to pro-industry policies and reforms, we have certain expectations from their potential impact. Enhanced efficiency through reduced transportation bottlenecks and improved infrastructure connectivity can lead to faster and more cost-effective movement of goods. Simplified tax structures and regulations are expected to lower logistics costs, making businesses more competitive both within the country.

We are also enthusiastic about policy initiatives that encourage technology adoption in logistics operations. Better supply chain visibility, increased automation, and data-driven decision-making can revolutionize our industry and further improve customer service.

An essential aspect of our expectations from these policies is the potential for job creation. A thriving logistics industry can generate numerous job opportunities across various sectors, making a valuable contribution to economic growth and employment generation.

Furthermore, we recognize the significance of sustainable practices in logistics. We eagerly anticipate policy initiatives that incentivize environmentally friendly practices, such as promoting the use of CNG & Electric vehicles and reducing carbon emissions. Embracing sustainability aligns with our commitment to responsible business practices and environmental stewardship.

As a company, we remain committed to staying informed about these developments and adapting our strategies to leverage the opportunities presented by Gati Shakti Policy.